FROM SQUATTER CAMP TO SELF-SUPPORT
We at Sparklekids financially support young people with an 'Attitude of Gratitude' to get from a place of disadvantage to self support through Education in the shortest time possible.
We connect our lives to these young people as much as we can and then we just marvel at the journey that unfolds from miracle to miracle!!
We identify young people with sparkle and we wake up do-able and realistic dreams together.
We then take hands with all and everyone who would want to be a part of this wonderful process, providing mentorship, developing coping skills and creating opportunities towards further studies or jobs through Internships.
With the support of donors like you, Sparklekids have changed the lives of over 50 young people by helping with registration and enrolment and getting them up and running at Universities and other accredited Tertiary Institutions.
Four years ago we started with two young people, both studying Engineering, - Chemical and Civil. (See DVD). The year after that nine students and last year (2015), thirty two eager and successful students. This year, 2016, Fifty!
Through raising funds we helped Headmaster Lolwana in getting the Senior Pass Rate to go up from 32 to 80% over the past five years through Vacation Workshops.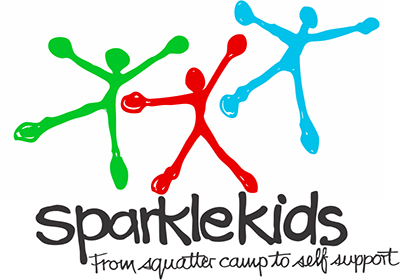 THIS IS WHAT WE BELIEVE IN.
Watch the story of Theo and Angie Krynauw, the founders of Sparklekids, and see how they are helping disadvantaged young people to dream big, and walking the journey with them towards reaching those dreams.
Sparklekids is a registered Non-Profit Organization. 2013/130961/08 .
PBO - 930051733..